UAE Data Center & Network
Purpose built data center in Dubai
Our Dubai data centre is located 15 minutes from Dubai Trade center resulting in amazing speed for customers in the MENA region accessing your web site hosted in Dubai.
For more cost effective options we also provide some services from our UK based centre in Milton Keynes, giving you the choice of infrastructure to meet your requirements and budget.
Every aspect of our data centers are designed with reliability in mind. To protect against failure all systems have backups, including power, cooling and connectivity.
With us your business will never miss a beat with our 24/7/365 monitoring and support. Put your your hosted application in safe hands at our robust and secure data center.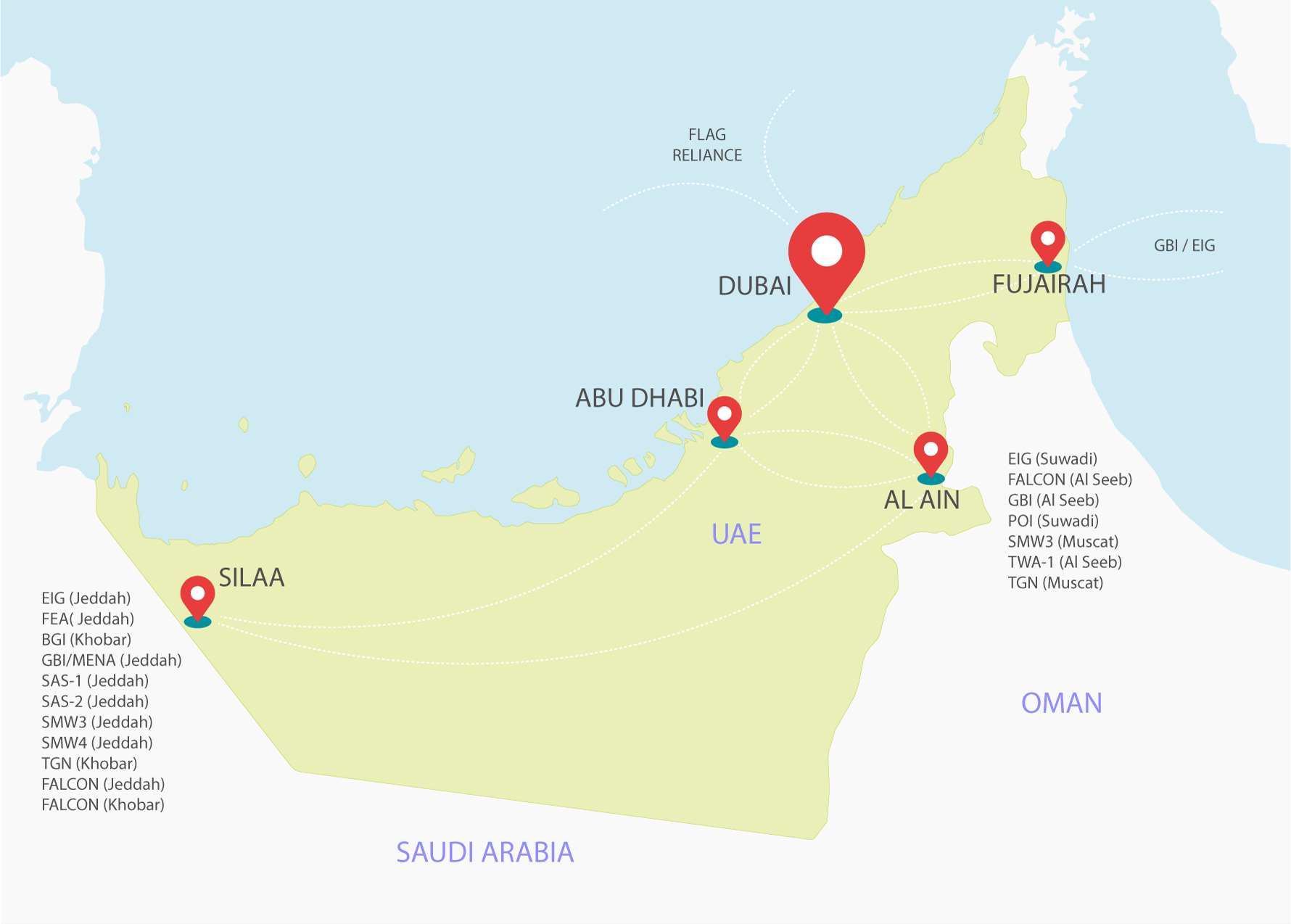 Network
Fully redundant BGP network providing multi-route redundancy for active network equipment
Worldwide low-latency fiber interconnects via FLAG Reliance, GBI, EIG, FALCON with both submarine and terrestrial cables
Segregated and secure dedicated public and private networks for customers
Protection
Single entrance, man trap and full height in and out turnstiles
Dedicated security team on-site 24/7, 365 days per year
CCTV, biometric, photo ID access and alarm system
Multi-zoned gas suppression system with localized operation and addressable point detection
Power & Cooling
N+1 distributed redundant UPS system
5.6MW utility supply with 6 incoming feeds
4 x 1.6 MW generators arranged in N+1 configuration
Cooling Capacity of 1.35 kW/m² in N+1 configuration
Heavy duty 750mm raised floor system with anti-static 600mm x 600m steel tiles
Operations Center
Monitoring with 24/7 using latest enterprise monitoring systems
Dedicated in-house support team 24/7, 365 days per year
Ticketing system with automated preventative maintenance scheduling
Partners
We only use the worlds best reliable vendors
DELL - Dell Inc. is an American multinational computer technology company based in Round Rock, Texas, United States. Established in 1984, DELL has the experience and expertise needed to provide enterprise grade reliable infrastructure that runs 24/7, 365 days a year.
Sophos - Sophos is a software developer and vendor specializing in business antivirus security solutions. Founded in 1985, it currently boasts 1,700 employees worldwide providing network security and Unified Threat Management products.
Microsoft - Microsoft Corporation was founded by Bill Gates and Paul Allen in 1975 and has since come leaps and bounds to become the world's largest software developer and provider for server software and security management worldwide.
Cisco - Cisco Systems, Inc. is an American multinational corporation headquartered in San Jose, California, that designs, manufactures, and sells networking equipment.
Watchguard - WatchGuard Technologies, is a provider of network security products and network security computer appliances.
Quality DELL Enterprise Servers
We own all our server hardware and pass savings on to customers
Backed by a large presence in the Middle East, DELL have the logistical and technical support needed to power an enterprise business such as ours. As a DELL Direct Partner, we own all our server hardware. By removing the middlemen we are able to pass savings directly on to our customers and provide even greater value for money.
DELL Enterprise grade equipment
Intel Xeon Server grade processors
Error Checking & Control Server Memory
SAS & Enterprise SATA drives with RAID
Redundant power suppliers
Centralized endpoint security management
Spare parts and servers kept available